***Win TAR 38: Darren Appleton vs Dennis Orcollo
Добавлено:
Сб янв 11, 2014 7:24 am
WIN A 3 DAY PPV PASS TO WATCH THE MOST EXCITING TAR LIVE STREAM YET!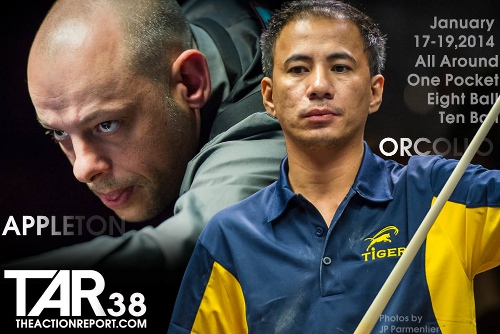 Friday/Saturday/Sunday 17,18,19 January 2014
WIN - TAR 38 : DARREN APPLETON vs. DENNIS ORCOLLO
The Action Report is proud to announce our latest production. TAR 38: Darren Appleton vs Dennis Orcollo. TAR 38 will take place at the TAR Studio in Las Vegas, Nevada on January 17th thru 19th. The match format will be an all around consisting of One Pocket, Eight Ball and Ten Ball.
TAR 38 will be available to watch via Live streaming PayPerView on theactionreport.com. The match schedule is as follows:
Start time for each day is 5PM Pacific/8PM Eastern
Day 1: One Pocket Race to 7
Day 2: 8 Ball race to 30
Day 3: 10 Ball Race to 30
Who do you think will win the Ten Ball match - Darren or Dennis?
There's no wrong answer - just respect our sponsor's generosity when claiming your entry.
...You can enter here in the BA forums and check the full list of entries
on the Pro9 forums
.